MAGNOLIA TREE, BOOK 1
THE CROSSING TRILOGY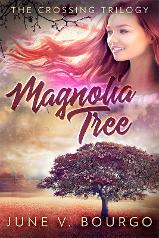 by Lil Sis JANUARY 12, 2020 wow!
I absolutely loved this book!!! There are so many twists and turns I could not stop! So much so, I one clicked the next book as soon as I was done with this one and I don't do that often! This author is very talented and I am now a FAN!
\\
WINTER'S CAPTIVE, BOOK 1
THE GEORGIA SERIES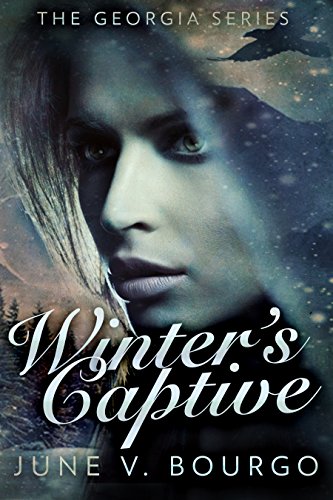 Format: Kindle Edition|Verified Purchase January 09, 2017
What a great book. Read it in a day and a half couldn't put it down. Anxiously waiting to start the second book of the series.
t
By S. M. Hart on July 19, 2016
Format: Paperback|Verified Purchase
Winter's Captive, by June V. Bourgo, is an engaging story of one woman's emotional and spiritual journey. The heroine, Georgia, is five months pregnant when she finds herself lost and alone in the woods. Bourgo uses the setting - an isolated, snowbound cabin - to provide the motivation for her heroine's growth. The child growing in her womb is a focal point that parallels Georgia's developing emotional maturity.
To survive, Georgia enters into a social compact with herself, her unborn child, and a spirit guide. The reflective conversations these relationships evoke are the strongest elements of the book. For those who are drawn to the inner worlds of one's soul, Winter's Captive is a fascinating and satisfying book to read.
Inspiring and Adventuresome, January 22, 2016 By Ink Blot Verified Purchase This review is from: Winter's Captive (The Georgia Series Book 1) (Kindle Edition) Here is an exciting, inspirational story about a single, pregnant woman overcoming seemingly insurmountable obstacles. The vast, isolated setting makes the novel hum with electric drama, an unforgiving but harshly beautiful landscape that serves as Georgia's ultimate salvation. I enjoyed watching Georgia develop and grow, and finally earn what she deserves in the end--she becomes a strong, capable character worth cheering for. Bourgo's plot is brilliantly-paced and beautifully imagined, full of adventure, romance, and captivating characters that undergo remarkable changes. I can't wait to see more of Bourgo's strong writing, and what else our main character Georgia will face down the road. Bourgo proves herself a compelling and enjoyable author.
LOVED it!, December 4, 2015 By Christine Rivett Verified Purchase This review is from: Winter's Captive (The Georgia Series Book 1) (Kindle Edition)
I so enjoyed this book. I had trouble putting it down and was sorry when I came to the end. The main character Georgia is someone you wish you had as a neighbour and friend. I think what I enjoyed the most about the book is the spiritual side of it ... that being the introduction to the native elder Nonnock (a spirit guide), a Raven Georgia called 'Feathers' and a female wolf. Each one of these played an important role in keeping Georgia mentally/emotionally alive. I'm a true believer in that everything happens for a reason however at the time the situation may seem more like a nightmare then a lesson. In Georgia's case, once she finds her sanctuary, she has to overcome many preprogramed ideas of who she really is and figure out a way to gain her personal power back. Georgia is faced with living through what is often called 'the dark night of the soul', and if that isn't enough she's also alone and pregnant. And yes there is light at the end of tunnel but I don't want to give the entire plot away. I hope you enjoy the book as much as I did .... now I'm onto book 2.
A very good story about survival against all the odds., October 18, 2015 By VM Sang This review is from: Winter's Captive (The Georgia Series Book 1) (Kindle Edition) I thoroughly enjoyed reading this book. The character of Georgia captured me and I followed her every move with interest. I enjoyed watching her grow as she faced her ordeal in the wilderness. Her husband left her pregnant and after a terrifying ordeal, Georgia finds herself faced with an even more terrifying experience—giving birth alone in the wilderness. She finds the strength to survive through a surprising means and grows both spiritually and emotionally. This is not the kind of book I usually read, but I found that it is one of those books that you want to keep reading to know what happens next, but don't want to finish. I am glad to se that June V. Bourgo is writing more books about Georgia. I am anxious to see how she continues her spiritual and emotional growth. This book has a lot to teach its readers about spirituality, and I have learned a lot from reading it.

L
OVED this book, June 10, 2015 By mommie2bnb This review is from: Winter's Captive (The Georgia Series Book 1) (Kindle Edition) LOVED this book!!! Not too many books that you can pick up and not put down until the very last word is read, this book was that! Recommend this book to everyone, and cannot wait until Book 2 of the Georgia Series comes out.
Loved the paranormal elements, April 6, 2015 By Kim Murphy This review is from: Winter's Captive (The Georgia Series Book 1) (Kindle Edition)
Georgia discovers that she's pregnant after her husband has left her for another woman. Not only that, her life is about to get worse when she's kidnapped by bank robbers. In fear of her life, she manages to escape the kidnappers and find safety in a small cabin in the wilderness. Winter's Captive is a survival story. Not just about a woman struggling to survive in the wilderness, but how she grows and becomes strong by facing the situation head on. I absolutely loved the paranormal elements with the raven, the wolf, and Nonnock from the Tahltan tribe.
The Unveiling of Georgia, March 28, 2015
By Chameleon Verified Purchase This review is from: Winter's Captive (The Georgia Series Book 1) (Kindle Edition) What a great story! I loved the way the author made this woman show us what she was made of - even when she didn't know herself. Really, you only have 2 choices in a situation like this: lay down and die, or you can fight for your survival. It really is true that what doesn't kill us usually makes us stronger. Georgia became stronger, but she also found something within her she never knew she had. This is overcoming and self discovery at its best. Great job!
CHAMELEON GAMES, BOOK 2
THE CROSSING TRILOGY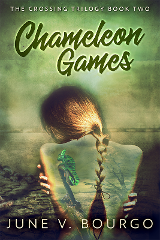 Best Books - Two Thumbs Up
Alicia Huxtable rated it it was amazing
Utterly fantastic!!! After book 1, I knew there had to be a book 2, but I didn't realise how engrossed I would get. The emotions that June pulls from the reader with every page of this book.
Chelsea, Sydney and Elizabeth are 3 very strong female characters and I loved their parts in this story. The males, Jax, Chaz and Gord are equally as strong but they don't over power the females as the lead characters.
A must read that you won't regret.
CHASING GEORGIA, BOOK 2
THE GEORGIA SERIES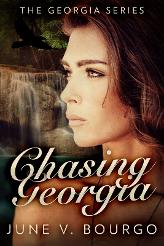 4.0 out of 5 stars Lessons of Life from June V. Bourgo ByS. M. Harton
September 21, 2016 Format: Kindle Edition|
Chasing Georgia continues Georgia's story five years after she survived a winter alone in an isolated cabin. As in the first book, Chasing Georgia traces the emotional development of a woman growing stronger and more confident with herself. June Bourgo allows time for the reader to explore Georgia's changing world - celebrity, a new romantic relationship, a growing child, and a dangerous stalker - and her response to it. One of the things I most appreciate about the Georgia series is the emotional maturity of the characters. They use reason and reflection to guide their actions and attitudes. I cannot hep but feel empathy toward Georgia and Sean because they are such caring, rational adults who want to do the right thing. Georgia's confrontation with the stalker is especially compelling. Recommended reading for fans of romance/fantasy.
I felt Georgia's pain. A great read!, January 22, 2016
By
This review is from: Chasing Georgia (The Georgia Series) (Volume 2) (Paperback)
I don't always give 5 star reviews but this book certainly deserves it! This is a page turner and once word catches on I think it will go a long way.
The story follows Georgia's life, 5 years on from captivity (see Winter's Captive the first book) and her daughter Kaela's father, Colin dies. His death sets in train a series of events and Georgia is faced with a big decision that any mother or woman would find extremely challenging. But Georgia is warm natured, her heart always guides her and she makes the right decision.
Meanwhile Georgia's fame brings unwanted attention and this book turns into a psychological thriller as Georgia and her family fight for their lives. At this point the story becomes gripping and we the readers are rooting for her safety.
Georgia's love life also hangs in the balance and she is unsure how she feels for a long time but the ending is a happy one and we the readers are left feeling satisfied.
June is an exceptionally good writer, her prose are crisp. The pace of the story is good and in the moment and the book is well edited.
Wonderful read., December 6, 2015
By
Verified Purchase(What's this?)
This review is from: Chasing Georgia (The Georgia Series Book 2) (Kindle Edition)
Well once again the author has knocked it out of the park with book number two! Just like book one, I couldn't put it down once I started reading. In
Winter's Captive, the characters indeed captured my heart, mostly because they were human and believable, its that plain and simple.

In Chasing Georgia, our heroine is again faced with some difficult life choices which adds intrigue and suspense to the book. I don't want to give the plot away but in book two we're introduced to a new villain. I smiled at the description of this individual because as in life, contrary to what most people believe, "the bad guys" aren't some ugly grease balls that no one would ever look twice at. The way the author describes this fellow's demeanour and secret life, well it just sent shivers down my spine. I'd expect to see his name listed along with the likes of Ted Bundy, Jeffery Dahmer and Paul Bernardo.

And of course there is romance for Georgia as she reunites with her soul mate. Oh yes, I mustn't forget to mention that "Feathers" makes and appearance in Chasing Georgia. Nothing like a little shapeshifting to stir the imagination.

Okay June, please start writing as I can't wait to read book 3!
Great story., December 25, 2015
By
Verified Purchase(What's this?)
This review is from: Chasing Georgia (The Georgia Series Book 2) (Kindle Edition)
This is an excellent book. I couldn't put it down till I finished it.
Full of suspense with twists and turns, November 21, 2015 By DIM Verified Purchase(What's this?) This review is from: Chasing Georgia (The Georgia Series Book 2) (Kindle Edition) Let me start with a warning: You can't put this book down once you read it. So, you've been warned:) Well done, Author June Bourgo. Georgia Charles is one amazing lady. She shows the real meaning of forgiveness and courage and love. She's also a true version of a fighter and a survivor. It's full of twists and turns and leaves you breathless. I also love the 'relationship' between the sisters. It's not always a bed of roses to have a sister with the sibling rivalry and all. The author did a great job in describing the relationship. Most of all, I love the ending:) Thank you, Author June Bourgo.
Amazing book, you won't to put down, November 15, 2015
By
This review is from: Chasing Georgia (The Georgia Series) (Volume 2) (Paperback)
Amazing book! I could NOT put this book down. I loved the first of the series but this one far surpass' it. I took it on a flight and cried along with the book. What an amazing story of forgiveness and Love. I recommend this book, this series to anyone who wants an amazing read and has a few hours to burn...because once you start June's book(s), you won't want to put them down. So looking forward to seeing what the future holds for the characters in the final instalment.
*****
By Anne Marsh on November 4, 2015
Format: Paperback Verified Purchase
Author June V. Bourgo has done it again! In this sequel to Winter's Captive, Georgia Charles continues her journey of self discovery and empowerment, while enduring the twists and surprises of life changing events! As in the first book of this series, the suspense is non stop, making it difficult to put this book down until the last page. Once again,Georgia must face obstacles and danger and overcome, in the same Tahlton wilderness of Northern British Columbia where she had been kidnapped years before. This time, however, she must fight for the lives of her daughter and her half sister, as well as herself from the presence of a dangerous stalker! I heartily recommend this excellent heart- pounding story for readers of all ages! Definitely a five star rating!
STORM DREAMER
THE CROSSING TRILOGY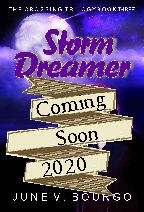 MISSING THREAD, BOOK 3
THE GEORGIA SERIES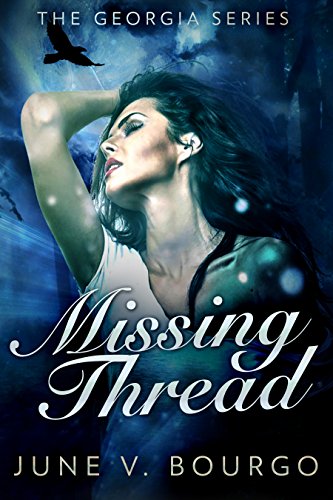 by S. M. Harton September 21, 2016 Format: Kindle Edition|Verified Purchase
In the third book of the Georgia series, Missing Thread, June V. Bourgo, takes the story of Georgia's journey in a different direction. Georgia, Sean, and their family must deal with the aftereffects of a devastating accident. As in the first two books, the story serves to engage the main characters in another phase of learning. This time, the challenge comes from within as Georgia must discover who she really is. What I most appreciate about this story is the parallel track - the "thread" - running throughout the book. As Georgia learns about her past while she recovers from the accident, she is also building her future. The theme of threads is evident in the separate conflicts of the story that are interwoven and addressed in a most satisfying conclusion. Another recommended read for fans of romance/fantasy.
Great Style and Warmth By Sensate on September 17, 2016 Format: Kindle Edition|Verified Purchase
The third book in the Georgia series by June Bourgo certainly does not disappoint the reader. Each chapter is well-developed and beautifully executed. The plot is strong and steady and keeps the reader interested throughout. The angst suffered by Georgia and her family is brought forth in such a natural and endearing way that the story reads more like a true story rather than a fictional account. Georgia's character, though developed fully in the previous books, takes on a new path of discovery which brings the character full circle. Ms. Bourgo has completed her series with style and warmth, and delivered a great read in the process.
Fantastic ending to a great series
ByAlicia Huxtableon September 16, 2016 Format: Kindle Edition|Verified Purchase
June V. Bourgo has written such an interesting series and this, book 3 rounds it out perfectly. Georgia and Sean went to hell and back in this series and it's so lovely to know how it turns out